Tiesta Tea Moves to Elk Grove Village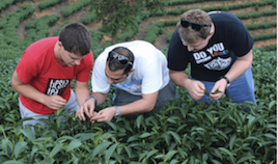 You've most likely enjoyed a fiesta and you've probably even taken a siesta, but have you ever had a tiesta? As in a tea experience with Tiesta Tea.
From the second you approach Tiesta Tea's new Elk Grove Village location, you know you're about to have an experience. The team at Tiesta Tea defines what 'living loose' is all about in their products, culture, and how they give back to the community.
Where it first began ...
What started out as a couple of childhood friends (since preschool!) studying abroad in Europe has turned into a powerhouse loose tea startup right here in Chicagoland.
In 2009, Dan Klein and Patrick Tannous met up in Prague while both studying abroad in Europe. Throughout their European travels the two kept running into tea houses and began wondering why this wasn't a 'thing' in the United States. It was at that moment the pair set out to bring loose leaf tea to the U.S., all while making it more accessible, relatable, and most importantly, affordable.
When Dan and Patrick returned home the next year, they began blending teas and selling them out of Dan's dorm room, which he shared with Tiesta Tea COO Alex Sosnov, at the University of Illinois at Urbana-Champaign. Patrick traveled down to U of I from UIC every weekend to help sample teas at the local farmers' market in hopes of finding what blends people liked best.
"I remember coming back to school over break and not being able to sleep in my own bed because our entire 4-bedroom apartment was filled with tea and my room had become the 'warehouse'," Alex jokingly recalled.
Fast forward to now, and you've most likely seen Tiesta Tea on your weekend shopping excursions at Jewel, Mariano's, Costco, or even Target. Today their 45 loose-leaf blends are sold in over 8,000 stores nationwide and in Canada, Mexico and the United Arab Emirates.
How they got to where they're at now ...
Co-Founder and CEO Dan Klein credits the University of Illinois' Launch Program to helping him and his friends launch their successful business. The Illinois Launch venture accelerator program helps entrepreneurs develop their ideas into high-growth, sustainable businesses.
"Illinois Launch taught us how to be a company… they introduced us to an endless community of inspiring individuals, that truly enjoy helping people," said Dan.
Aside from the University of Illinois, Alex believes that the group has maintained close friendships despite being warned early on about going into business with friends. Fortunately, they've been able to remain good friends by understanding each other's role in the business.
"I think being young and naïve kept us going," Alex said. "Just getting excited about the little things."
Dan, Patrick and Alex have remained the best of friends through it all, even standing up in each other's weddings the past couple of years. #BFFGoals (as they joke around on their social media accounts!).
And since 2010, Tiesta Tea has hired several other people from Wheeling High School (Dan, Patrick and Alex's alma mater).
"We always believed we could do it our way by working with people we trust," Alex said.
Why Elk Grove Village?
According to Alex, Elk Grove Village seemed like a natural fit when the team was deciding on the next location to grow their business.
Aside from its proximity to O'Hare International Airport, which was a must for the ever-growing business, Alex attributes the move to Elk Grove Village to the village's commitment to being business-friendly.
Their new facility is nearly five times larger than their previous facility and has already opened a lot of doors for the startup since moving in just a few months ago.
"When we were looking for a location we kept hearing Elk Grove Village is where businesses want to be," Alex stated. "And we're really happy with the location. We're really proud of the space and proud to bring our top customers into our new home here in Elk Grove Village."
To learn more about Tiesta Tea, visit TiestaTea.com and follow on Facebook.