Makers Wanted Bahamas Bowl exposure prompts national travel stop network to invest in Elk Grove Village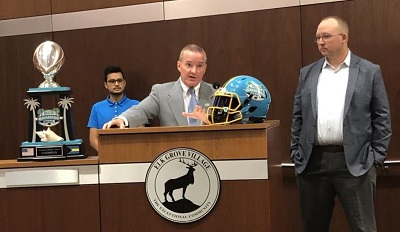 Love's Travel Stops & Country Stores, the nation's industry-leading travel stop network, is seeking to build a 7,600 square-foot store and fueling station at the intersection of Pratt and Busse in Elk Grove Village. Officials project that the store would generate millions of dollars in sales tax revenue for the Village in just a few years. 
Elk Grove Village Mayor Craig Johnson called the move a major win for the Village. "We're proud to welcome Love's to Elk Grove Village and prouder still that our investment in marketing Elk Grove Village via the Makers Wanted Bahamas Bowl is delivering significant and tangible results," he said.
Officials from the Village and Love's held an introductory meeting in May 2019 to discuss potential locations. At the end of the meeting, Chad Bruner, real estate project manager for Love's, mentioned to Mayor Johnson that he first heard of Elk Grove Village while watching the Makers Wanted Bahamas Bowl last year from his home in Oklahoma City. Bruner liked the creativity and boldness of the sponsorship and began to explore the potential of opening a Love's store in Elk Grove Village.
"Love's has been looking for the right place to serve customers in the O'Hare International Airport area, which is both a heavily traveled area and densely populated," Bruner said. "The sponsorship drew my attention and made me think of Elk Grove Village as a business-friendly place. The service and support I've gotten from the Village have confirmed that they are the right partners for this unique endeavor. We're excited for the opportunity to bring jobs and our brand of Highway Hospitality to customers in Elk Grove Village."
"From the beginning, sponsoring the Makers Wanted Bahamas Bowl was about creating national and international brand awareness for the Elk Grove Village Business Park. We knew this bold move would serve as a great platform to tout our 'Beyond Business Friendly' approach to attracting companies to the Village," said Mayor Johnson. "The story of Love's coming here is a great example of how we're creating strong economic momentum."
Love's officials have signed a lease for the property located at Pratt and Busse in Elk Grove Village and submitted a petition for a special use permit for their fuel station operations. The next step for approval will be a public hearing before the Village's Plan Commission, which will then issue a recommendation to the Village Board. The special use petition is currently under staff review and a public hearing is not yet scheduled. Company officials say they are working to cut the ribbon on the new Love's store in 2020.
Elk Grove Village is home to the nation's largest industrial park, a 6-square mile expanse that is home to more than 5,600 businesses that employ over 70,000 people.
The Village is the title sponsor of the 2019 Makers Wanted Bahamas Bowl. It began its sponsorship with the bowl game last year and became the first non-tourism driven municipality to ever be the title sponsor of any college football bowl game. Sponsoring the Makers Wanted Bahamas Bowl is one facet of the Village's overall economic development strategy that has delivered results for businesses and residents alike. 
About Love's Travel Stops & Country Stores         
Love's Travel Stops & Country Stores is the nation's industry-leading travel stop network with more than 490 locations in 41 states. Founded in 1964 and headquartered in Oklahoma City, the company remains family-owned and operated and employs more than 25,000 people. Love's provides professional truck drivers and motorists with 24-hour access to clean and safe places to purchase gasoline, diesel fuel, fresh coffee, restaurant offerings and more. Love's has more than 350 truck service centers, which include on-site and stand-alone Speedco and Love's Truck Tire Care locations. Love's and Speedco combined is the largest oil change, preventive maintenance and total truck care nationwide network on the road. Love's is committed to providing customers with "Clean Places, Friendly Faces" at every stop. To learn more, visit loves.com.