Elk Grove's Community of Helpful Neighbors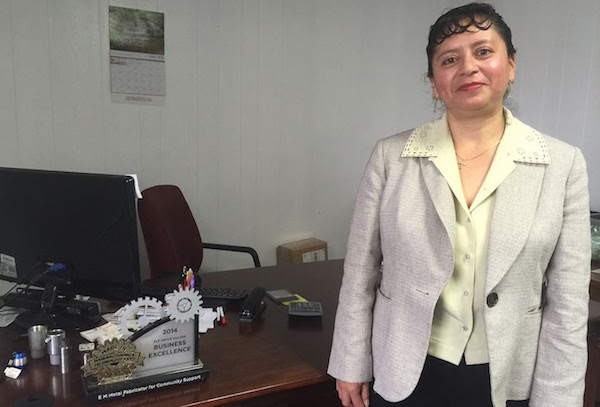 "We need to promote our community and in order to do that we need to help each other. We have what it takes to be the 'Silicon Valley' of Illinois."
Gladys Moscoso is the Sales and Marketing Director for her parents' company, E-M Metal Fabricator, founded by her father in 2004 — right here in Elk Grove Village.
Gladys and her family were born in Ecuador. Her parents moved to the United States in 1972, and Gladys followed in 1981. Her father was working for another metal fabricator company in Elk Grove when he was inspired to venture out. Eventually, the family saved enough money to start their own metal fabricating business.
Gladys is a passionate woman who takes pride in what her family does and believes that a tight community is key to living the American dream.
Q: Tell me your experience of working with your neighbors.
A: Everyone in this community is so helpful. For instance, U.S. Plumbing and Heating Supply is located directly across the street from us. They have gone out of their way, staying after hours when we needed our pumps fixed. We also have a great relationship with AMCraft Manufacturing. We've helped them with components for their products and whenever we need work on our building, we will go to them for referrals whether it is for a lawyer or parking maintenance. I always communicate to my neighbors that we're open to help however we can.
Over a year ago, an employee from Cragin Metals stopped by our office for an impromptu face-to-face introduction. Our second encounter with the Cragin team was during last year's expo. This time, we had a great conversation about the type of products they have and what they could provide us. Since then, they've been a great and dependable supplier for us.
Q: Describe your company's experience attending the Made in Elk Grove Manufacturing & Technology Expo.
A: One of the best efforts Elk Grove Village has done to attract and retain businesses is developing and executing the Made in Elk Grove Manufacturing & Technology Expo. Josh Grodzin and his team have done a great job at making it a valuable resource for local businesses. It has been a great place for manufacturers to interact and gain exposure. We'll definitely be there this year.
Q: What keeps your parents' family business in Elk Grove?
A: We're very happy with what Elk Grove has done to help the economy and our community. The greatest benefit of being located in Elk Grove is the people. Everybody has been pulling together to create a tighter community. If we continue strengthening our local network, the small local business will have a better chance to thrive in this community and we will continue to move ahead together.
I believe in innovation. Let's put innovation upfront. This town has the capabilities and the capacity to be the center of innovation, which makes me believe Elk Grove can be the "Silicon Valley" of Illinois.
---
E-M Metal Fabricator won the 2014 Business Excellence award for "Community Support" during last year's Made in Elk Grove Manufacturing & Technology Expo. When Gladys was asked to take a picture standing next to the award, she stated, "It was my mom who made this award possible," crediting the woman responsible for the great achievement.