Elk Grove Job Fair Features Diverse Mix of Employers and Attracts Over 500 Job Seekers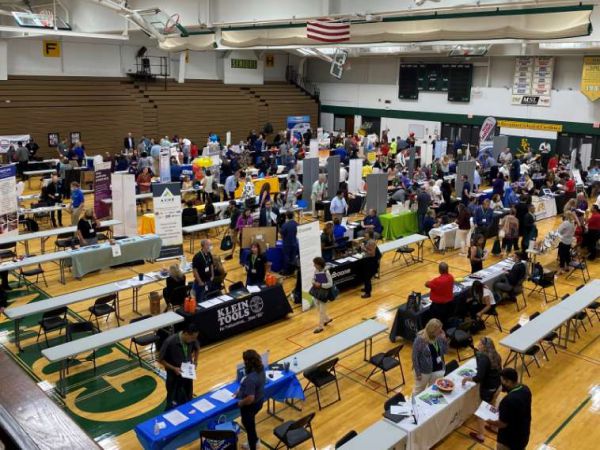 This past July, Elk Grove Village made some of its own personal history by hosting its first-ever job fair at Elk Grove High School. The event featured over 130 companies and saw over 500 applicants attend. While feedback continues to pour in, EGV's Senior Village Business Development and Marketing Management Analyst Nick Radcliffe says the initial response has been very positive.
Current Elk Grove Village Business Park resident Kerry Ingredients took full advantage of the setting and the volume of hungry applicants. Not only did they accept 16 applications, but they took the process a step further by conducting interviews in the school's cafeteria. Another company that attended the event accepted applications from 20 attendees for their open positions.
When Mayor Craig Johnson was asked about holding another fair next year, he responded by saying, "We may not wait that long." In fact, a second job fair is scheduled for November 5th, 2021 at Elk Grove Park District - Jack A. Claes Pavilion. The village is looking to both build upon the first event's success and improve the fair by making logistical changes.
Several of the companies that attended the job fair engage in advanced manufacturing and require a special certification. While they searched for candidates who already held these credentials, they remained open to the possibility of training the right candidate.
What made the fair such an attractive destination for the area's job seekers was the diverse background of the 133 companies who attended. Some of the companies who attended included Arrow Road Construction Company, Avalon Banquets, Cook County, Diamond Truck and Trailer, and Diemasters Manufacturing, to Elk Grove Pet Clinic, Elk Grove Village police, fire, and public works departments, Grecian Delight/Kronos Foods, Jersey Jack Pinball, to MS International, Inc. (Toyota subsidiary manufacturing forklifts), to the Northwest Central Dispatch System (area 911 dispatch), Rolando's Car Care, Inc., Savage Bros Co., SigmaTron International, Inc., Home Depot, The Salvation Army Emergency Disaster Services, Township High School Dist. 214 (including Elk Grove High School), and Wiegel Tool Works Inc.
As Elk Grove Village plans for another Job Fair, we are excited to see what comes out of the connections made at this past one. We thank every company who exhibited at our first ever job fair, and all who took the time out to attend!