EGV Celebrates Groundbreaking of Love's Travel Stops & Country Stores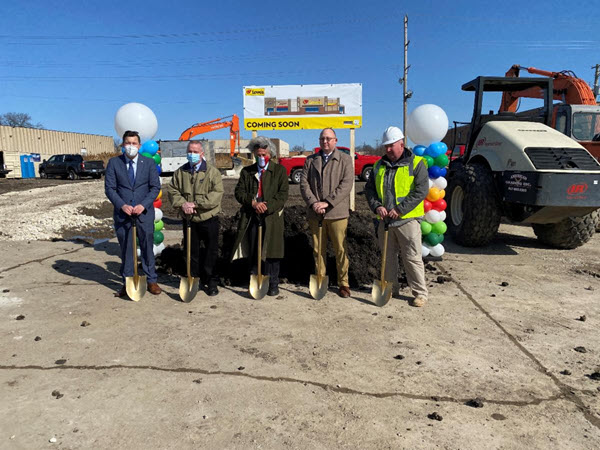 Arrival of national chain expected to generate millions of dollars in tax revenues and is a direct result of Village's Makers Wanted Bahamas Bowl sponsorship
Elk Grove Village officials joined leadership from Love's Travel Stops & Country Stores today to herald the groundbreaking of a brand new 7,600 square-foot store and fueling station at the intersection of Pratt Boulevard and Busse Road. Officials project that once operational, the store could generate millions of dollars in sales tax revenue for the Village in just a few years.
Love's Travel Stops & Country Stores, the nation's industry-leading travel stop network headquartered in Oklahoma City, became aware of Elk Grove Village during the municipality's sponsorship of the Makers Wanted Bahamas Bowl in 2018.  The marketing partnership with the bowl game provided the Village world-wide visibility and got the attention of Love's leadership.   
Elk Grove Village Mayor Craig Johnson attended the groundbreaking with other Village officials and Board members. Also in attendance was Chad Bruner, real estate project manager for Love's, who was instrumental in selecting the Village's Business Park as a prime location to serve customers in the O'Hare International Airport area.
"Our partnership with Love's is a direct result of our ongoing efforts to be bold, creative and aggressive in marketing Elk Grove Village's 'Beyond Business Friendly' approach on the world stage," said Mayor Johnson.  "Just as we do with every business that locates here in Elk Grove, we are committed to partnering with Love's and look forward to doing everything we can to share in their success." 
After Love's officials signed a lease for the property, it worked with the Village Board and the Plan Commission to receive a special use permit for their fuel station operations.  With preliminary construction now under way, Love's officials say the store could be open by the end of the year.
Following up on its successful partnership with the Makers Wanted Bahamas Bowl, the Village is currently engaged in another innovative sports marketing sponsorship with USA Track and Field, USA Wrestling and USA Triathlon. This support of American athletes as they prepare for Tokyo this summer has once again placed Elk Grove Village on the world stage.  
"When it comes to showcasing all that Elk Grove Village has to offer global, national, and even local companies, we will continue to lead by being creative, seeking unique partnerships and taking bold steps," said Mayor Johnson.