Welcome to ENCLAVE for Entrepreneurs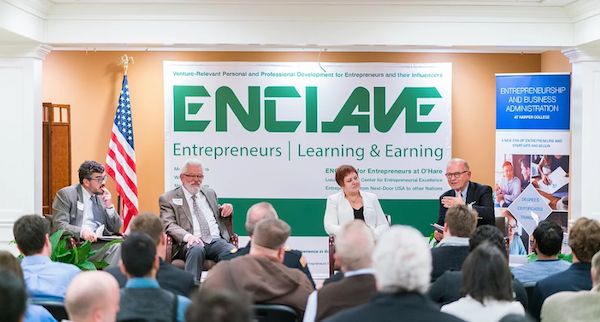 ENCLAVE for Entrepreneurs is an international collaborative learning center for entrepreneurs in Elk Grove Village. It is a private-public partnership that connects entrepreneurs, investors, vendors, and other innovators with valuable resources. It was founded by John R. Dallas, Jr., David E. Morrison, Jr., and David E. (Daven) Morrison III. 
ENCLAVE is an illuminator, not an incubator or an accelerator. Here light shines on the development of entrepreneurs, with related focus on ventures. Before, while, and after entrepreneurs develop their entities, ENCLAVE illuminates and facilitates venture-relevant opportunities for deeper learning.
Become an ENCLAVE member: 
ENCLAVE O'Hare is a membership organization. For individual members, there is a modest $10 fee per month. For organizations, $25 fee per month for up to three full-time employees. Verifiable government-issued ID is required for ENCLAVE membership, and for use of ENCLAVE facilities.
Through ENCLAVE education programs, individuals develop a greater sense of their own societal significance. Enlightened through ENCLAVE, more people will participate in supporting entrepreneurship, new jobs will be created, revenue will be generated for participants, tax revenue will increase, and people of all ages and stages will be inspired to consider careers as entrepreneurs. To learn more, visit enclaveforentrepreneurs.com
The following Strictly Business podcast episodes feature John R. Dallas, Jr., founder of ENCLAVE: